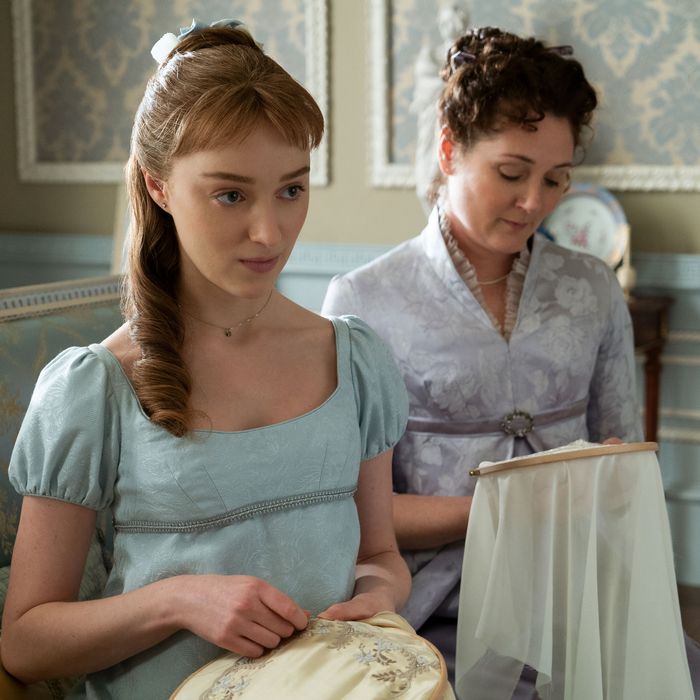 Bridgerton
Diamond of the First Water
Season 1

Episode 1
Editor's Rating

4 stars

****
Photo: LIAM DANIEL/NETFLIX
Minutes into Bridgerton, the eight-episode Netflix series from Shondaland that's based on Julia Quinn's Regency historical-romance series about the eight sons and daughters of an English noble family, it's clear that the history TV game has changed. The cast is diverse, the costumes feel more inspired by vintage Quality Street candy-box images than museum pieces, we've got a gent ass out and balls deep en plein air, and the voice of Dame Julie Andrews recites a quote from epoch-defining mess Lord Byron about scribbling bitches.
The opening scenes function as a long-awaited responding salvo to the myriad of fans and professional experts who have spent the time since the show's July 2018 announcement speculating on what executive producer Shonda Rhimes and show creator Chris Van Dusen would bring to the source material. The Bridgerton book series — beloved by readers around the world for its warmth, humor, and relatable characters — has sold millions of copies and been translated into more than 20 languages. No pressure.
A fair number of historical-romance novels set in the U.K. during the long 19th century (1789–1914) and published in the last 20 years or so take place in an alternate universe (AU) coming out of Jane Austen's pelisse, marinated in conventions introduced by 20th-century author Georgette Heyer, and forever altered by Kathleen E. Woodiwiss's introduction of on-page sex in The Flame and the Flower. The Bridgerton books contributed greatly to the AU's popularity despite the sub-genre being classified as "wallpaper historicals" by some romance fans. I'm an academic historian (I'll be suggesting some sources and scholarly reading related to the show in my recaps), and I actually like the way authors such as Quinn have collectively built the alternate universe! The 19th-century AU is a mix of historical reality and total fantasy: There's little indoor plumbing but an infinite number of hot young men laying ducal pipe.
One of the chief criticisms romance fans have made is that Bridgerton and the 19th-century romance AU have traditionally been an almost uniformly white world (though recent and forthcoming books tell stories about people of color). The show aims to address this central problem, and the flexibility of the 19th-century AU is an asset here. Bridgerton makes the historical Queen Charlotte, who has been identified as a descendant of a Black branch of the Portuguese royal house, the regent governing an inclusive society. The show isn't just Austen with sex and color-conscious casting but a whole new speculative take on the enormously successful AU.
In much the same way that Bridgerton expands the AU, it takes Quinn's series as a starting point but deviates from it in both small and meaningful ways. I considered enumerating the differences between the eight books plus their combined 16 epilogues and the show but ultimately tore up my notes so they could serve as extra confetti during one particularly pretty dance scene. Regard the Netflix Bridgerton series as a new story, a new sheet of paper. What's to be determined is whether it's a box of shmancy 13th Century Fabriano or the back of a CVS receipt.
Episode one of Bridgerton shoots us into Grosvenor Square in the Mayfair district of London on the eve of 1813's social season. Baron Featherington lives with his wife and three daughters in a house with a magnificent smooth stone exterior. Mama Portia Featherington demonstrates that she's tasteless and tactless by insisting that her daughter's corset — by Mister Pearl, creator of burlesque-inspired corsetry for Kylie Minogue and Dita Von Teese — be laced tighter. Never mind that women pulled way back on corsetry in the early-19th century; this is a big-budget costume romantic comedy for the female gaze, and nothing reassures modern women that we've come a long way, baby, like historical characters getting their innards rearranged by tightlacing. But congrats on losing corset Twitter in the first few minutes; that's got to be a record.
We're next introduced to the Bridgerton family, consisting of four perfectly handsome sons, four perfectly beautiful daughters, and their widowed mother. They're rich, but we know they're the quirky and fun kind of rich because their house has an old-money, "we've had this pile for a while" variation in brick colors and some charming wisteria around the entrance. The Bridgerton scheduled to find love first, Miss Daphne, is running late, but it's forgivable because she's wearing a dress with a glorious embroidered train that must present a tripping risk.
The current Viscount Bridgerton, eldest son Anthony, is missing. It's because he pulled over for an exuberant roadside shag against a tree, which can't be that great for her, because she's against a good deal of bark, nor for him, because he's checking his watch. I hope the coachman standing guard in the same frame is getting hazard pay. The family reassembles outside the under-construction Buckingham Palace and all slide in to see Daphne's triumphant presentation to Queen Charlotte. The debutants are outfitted with feathered headdresses that make them resemble cosseted showgirls or corseted circus ponies, both of which make sense given their decorative place in society.
The voice of Julie Andrews introduces herself as Lady Whistledown, aforementioned scribbling bitch, who is using a team of enterprising newsboys to warn London high society that she plans to remain unknown while detailing their lives in Lady Whistledown's Society Papers. Back in the Bridgerton house, Daphne expounds on the wish to use her elevation over the other 200 young ladies looking to wed this year to secure a love match modeled on the love her parents shared. Next-eldest sister Eloise bursts her bubble by pointing out that even the star of last year's season is now unhappily dumped in the country, far from her husband, according to the Whistledown scandal sheet, which is unique in that it prints the full names of its subjects.
Daphne, proclaimed a "diamond of the first water," and her family fare well in Gossip Lady's pages, but across the street, garishly upholstered Portia Featherington rages against Whistledown over tea with her brightly attired daughters and the visiting Lady Cowper. Youngest daughter Penelope suggests that she might sit this season out, which leads to nasty comments about her weight and skin from sisters Prudence and Philipa. A visiting cousin is expected shortly, and Portia wonders how much competition a poor relation from the country could possibly present for her girls. She's immediately dealt her comeuppance in the form of beautiful and simply attired Marina Thompson.
Simon Basset, Duke of Hastings, rides into town with a dashing scowl and caped greatcoat straight out of Mr. Rochester's tormented dreams. He sneaks a drink from a flask to let us know he's not just brooding but also dangerous before accepting condolences on the death of his father from Lady Danbury. She economically reveals that Simon hated his father and he's now considered a top catch by the vulgar society mamas of unwed daughters. Simon attempts to wheedle out of attending Lady Danbury's ball, but she demonstrates that in this relationship, she's the alpha and he is still a mere pup.
At the opera, Viscount Anthony and singer Siena Rosso eye-fuck and then actually fuck again backstage, enthusiastically breaking a good deal of property along the way to hammer home once again that despite the bright costumes, this isn't The Wonderful World of Disney. Anthony is forever checking the ancestral watch, but I'm checking the results from leg day, because in this alternate universe, the men show the most skin in love scenes.
Back at Lady Danbury's ball, the Vitamin String Quartet plays "Thank U, Next" to kill off any sticklers for historical accuracy who have made it thus far. Daphne enters the ball on the arms of her mother and Anthony, her innocent no-makeup look in contrast to smoky-eyed, sexy Siena. Anthony bounces a number of unsuitable men who make their approach to Daphne while Colin experiences a coup de foudre upon seeing Marina Thompson.
The Featherington girls recognize Simon, the Duke of Hastings, from their set of bachelor trading cards and join a growing swarm of ladies hoping to become Her Grace. While fetching a glass of lemonade, Daphne encounters Lord Berbrooke, who is instantly recognizable as ineligible owing to a profusion of chest ruffles and slurping his drink. While escaping Lord Berbrooke, Daphne collides with Simon in a crash of fate. Simon reads Daphne's attempt to use him to avoid the attentions of Berbrooke as accosting, and they have a snappy exchange even after Anthony runs up to greet his old Oxford schoolmate.
After rolling out of the ball early to leave the gentlemen wanting more, Daphne receives a number of suitors in the Bridgerton drawing room the next morning, but Anthony scares them off, leaving the field open for Lord Berbrooke. The gentlemen flock instead to the Featherington house to call on Marina. Lady Whistledown fans the flames by broadcasting the drawing-room disparity and suggesting that Queen Charlotte made the wrong call about Daphne's luster. Curiously, Whistledown mentions the mental illness of the king, suggesting that maybe there's a link to the historical reality in Bridgerton and Queen Charlotte stands in as regent in this AU instead of real-life regent Prince George.
Daphne and Anthony fight in Hyde Park while riding, giving her the chance to confirm what we know about the restricted roles for 19th-century English women, particularly the daughters of the aristocracy. Simon is lying abed, similarly emo about his place in society, given that he's a hot single man in possession of a dukedom.
Within a gentleman's club, presumably White's, there's a chalkboard tracking the names, weights, and rich or poor status of a number of men, probably the greatest piece of set dressing in the whole series. Anthony and Simon bemoan the state of life as bachelors in a city littered with marriage-minded mamas over drinks and cigars. Simon reveals that he's been spending a lot of time on r/childfree and plans to let his title die with him, which is a good way to phrase it these days if you don't want pushback, but maybe not so much in the 19th century if you're a duke with an actual bloodline to speak of.
At the opera, Queen Charlotte snubs Daphne in light of Lady Whistledown's insinuations that Her Majesty bestowed her favor on the wrong debutante. Lady Danbury invites Violet and Daphne to her box, where the elder ladies hatch a plot to counter Whistledown's talk by pairing off Simon and Daphne.
The next morning at the Featherington house, Marina searches through her bedsheets and throws them in anger, presumably furious that she spent $100-plus on start-up sheets that are still, you know, bedsheets. Should have held out for a Black Friday sale.
Over dinner at the Bridgerton house, with all of the children plus Simon in attendance, the table speculates on who Lady Whistledown could be. Simon and Daphne don't click: She calls him a rake (short for rakehell, a debauched man), and he calls her desperate.
Mama Violet and Anthony clash in the Viscount's study after dinner over the subject of responsibility. Anthony isn't buying into Violet's assertion that reformed rakes like Simon make the best husbands, while she calls him on keeping a mistress on the other side of town. After the scolding, Anthony swings by for a bang and then promptly dumps Siena, mere show minutes after promising to always protect her. He tells her to leave, presumably meaning to leave the apartment he pays for. Okay, remember when Bocca degli Abati cut off the hand of Florence's standard-bearer in 1260 at the Battle of Montaperti, leading to their defeat by Siena? I'm about to cut off a whole lot more than a hand for Siena. If I hear a single word against this woman, who is apparently mistressing without a decent contract due to love or lust, getting barkburn for watch-checking Anthony Bridgerton, I will go to the mattresses, and not the temporary ones paid for by Bridgerton money!
Across the river in Vauxhall, Colin Bridgerton saves Penelope from mean girl Cressida Cowper after learning that Marina is stuck at home unwell. We discover back at the Featherington house that it's because Marina's cursed sheets function as a positive pregnancy test, since of course there's only one reason they should remain unstained by blood for more than a month.
Anthony announces to Daphne that she's to marry Nigel Berbrooke on account of him ticking off the essential boxes for a husband, which are presumably "has heartbeat" and "introduces conflict to a canonically pretty chill family." She takes off to a secluded garden to pace in rage, where she's met by a rapidly escalating Berbrooke, who reveals himself to be a creepy villain. Simon happens upon the couple while avoiding mamas and rushes to Daphne's defense just as she knocks Berbrooke out with a right hook. After sharing their mutual rock (Lady Whistledown) and respective hard places, Simon proposes a fake courtship and they head to the dance floor to sell the lie to the ton. Lady Whistledown reveals the match in voice-over, suggesting that the ruse worked, and the couple dances into the credits with enough fireworks in the background to level London once again.
• Ton, bucks, and high in the instep add Regency flavor, but the full meaning of some words isn't always apparent to modern viewers. Luckily there are fun lexicons that can get you sorted out. Here's a good starter.
• If you'd like to go a step deeper and add more Regency words and phrases to your life, may I suggest the 1811 Dictionary in the Vulgar Tongue, actually written during the Regency period. It includes such outstanding finds as "CATCH FART: A footboy; so called from such servants commonly following close behind their master or mistress."
• The lead actors are sporting some magnificent brows. Based on the hold and color, I'm guessing the makeup artists used glycerin-based soap to create what are known as soap brows. For more on all the clear brow products that can launch you into le bon ton, check out this guide from the Strategist.