Bridget Lindquist, the Barkin duo
Come 2021, there will be a little less barking in Santa Fe for animal lovers to enjoy.
Barkin Attic, the companion store to Barkin Boutique — both secondhand retail stores that raised money for Española Humane — is closing for good Dec. 30. The Attic lasted about six months longer than the Boutique.
The closures, says Bridget Lindquist, executive director of Española Humane, mean more than just a loss in revenue to help the shelter's animals. 
"We lose our presence in Santa Fe, a presence in a community that supports us generously," she says. "That's the hardest thing to accept, to get past — that our presence in Santa Fe will be diluted by not having these stores in Santa Fe." 
The Boutique had been around longer — 20 years as of April — while the Attic opened in 2014. Both sites were places where people could buy clothing, furniture, jewelry and other accessories. Sometimes, cuddly kittens and other critters were on hand just in case you wanted to adopt them while you were shopping.
Each store brought in somewhere between $300,000 and $350,000 annually for the shelter, Lindquist says. 
"That Barkin combination — you go in, you felt positive about helping the community, helping businesses, helping animals," Lindquist says.
But health restrictions on large gatherings limited the number of shoppers in the stores, and early fears that secondhand items might transmit the virus further cut into the business.
In all, six people lost their jobs.
Lindquist says the shelter perhaps will find a way to open at least one new similar store in the future, after the pandemic abates.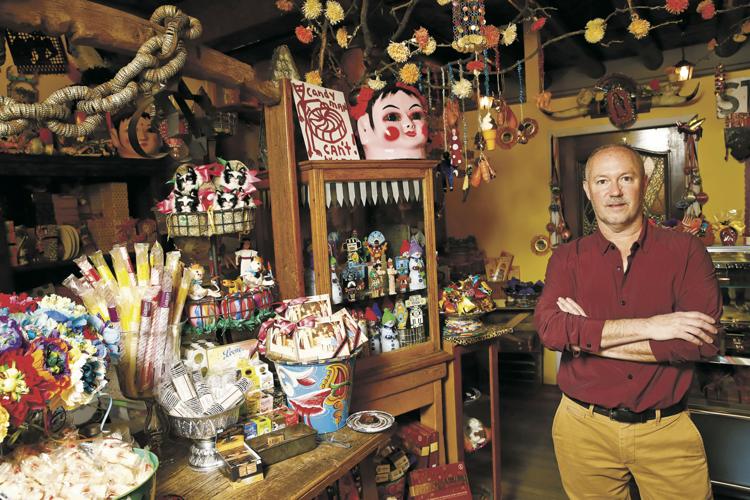 Hayward Simoneaux, Todos Santos
Something sweet — that's what you got when you walked into Todos Santos, nestled in a back corner of Sena Plaza for over 20 years.
In October, the longtime chocolate store melted into the sunset.
Owner Hayward Simoneaux tried to keep it going, first shutting down early in the pandemic, then reopening and adjusting to the loss of chocolate sales — and chocolate that went bad during the shutdown — from March through September. 
When his lease came up for renewal in October, he had to ask himself, "Do I invest in a Christmas that might not happen?"
The answer, for him and others, was no. By the end of that month, he and his one employee were out of work. Now enjoying an unexpected break — "I've never been off before on Thanksgiving. This was the first one after 21 years. I went hiking with my dog!" he says — Simoneaux has time to create an Instagram timeline of Todos Santos in images of sweets and treats.
A chocolate St. Nick. A Virgin of Guadalupe pastry. A Thanksgiving Day turkey treat. Each with its own history, each representing a different point in the store's past.
"Todos Santos was a very one-of-a-kind store that just closed," Simoneaux says. "Our town is not filled with chain or franchise stores downtown. People — both locals and tourists — came here for that kind of shopping. We lost one of those."
Something else within him is lost.
"I had amazing customers," he says. "I miss them." 
He might start a new business, he says, but it's too soon to tell.
He left the store's phone number operating. He still gets calls from customers.
"They want to know what the store's hours are."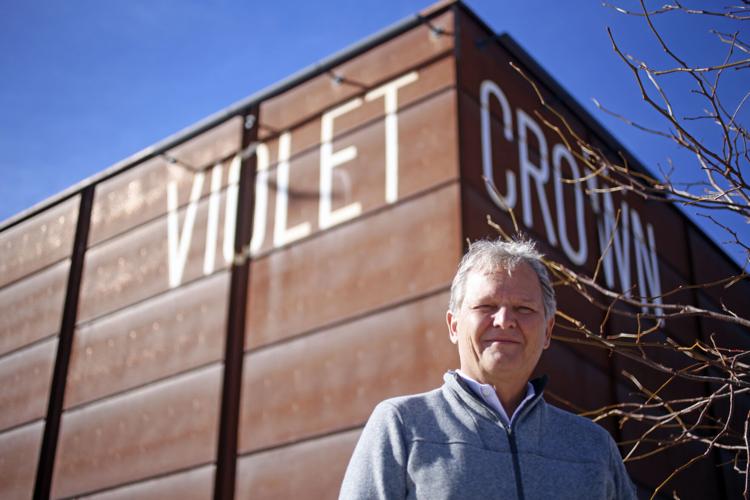 Bill Banowsky, Violet Crown
Let's get this straight: Violet Crown has not gone out of business. The independently owned cinema located in the Railyard plans to wait out and adapt to the pandemic. 
But its closure since the spring speaks to a loss many filmgoers have felt across the nation in 2020.
"The year without movies," says Bill Banowsky, who owns Violet Crown and two other cinemas elsewhere in the country.
"This is the year the movie business structurally changed forever in ways we don't fully understand yet," he says. "It's a year when a lot of businesses around the country will fail, including many in the cinema industry. That's just a fact."
According to the National Association of Theatre Owners, 96 percent of U.S. cinemas have reported over 70 percent in losses in 2020. The association predicts 70 percent of its small and midsize theaters will go bankrupt or out of business by January.
Banowsky says he expects Violet Crown, which has been around for five years, to somehow survive, perhaps by renting out each of his 11 cinemas to individual groups of parties. They would be made up of people who know one another and know enough to socially distance in the cinema until the crisis subsides and life — and going to the movies — gets back to whatever the new normal becomes once health orders are loosened.
"You'll just pick a time and day where you can rent your auditorium, then you select what movie you want," he says. That pick could be a film in wide release or one of some 60 classic films Violet Crown has access to in its Jukebox Cinema program. 
"There's no question people are gonna be excited about getting out for movie night again," Banowsky said. 
Still, he had to first furlough, and then lay off more than 30 employees. And being closed for nine months has had a "huge negative economic impact" on his business. 
"Our revenue was not just cut in half, but entirely," he said. "We went from being a very profitable business operation from 2015, when we opened, through 2019, but since the end of March, we have had zero revenue."
There's also no question that something that was so much a part of Americans' social lives is temporarily gone.
"The whole art of going to the movies is lost," Banowsky says. "It's been taken away from our society as an option."
Sam Gerberding, Inn of the Governors and Del Charro restaurant
Il Piatto — gone. L'Olivier — closed for good. Cafe Sonder — done.  
Dozens of other restaurants, both in Santa Fe and statewide, have gone into hibernation, waiting out the winter with the hope they can come out of their temporary slumber and open their doors again. 
Welcome to the restaurant business.
"To have them gone changes the energy of this town," says Sam Gerberding, who manages two restaurants in Santa Fe and serves as president of the New Mexico Restaurant Association, which represents about 1,300 members.
Gone, too, are thousands of jobs.
Gerberding has delivered the bad news many times, laying off 30 percent of his staff at Del Charro and the restaurant at Inn of the Governors. The rest are working reduced hours as the hotel and restaurant — which is only offering outdoor dining at this point — struggle to stay in operation. 
"We're limping along with a core group of employees," he says. 
As president of the association, Gerberding says he knows even those still in operation won't make it for long.
"This is a big part of what our whole country is struggling with," he says. "Gone are people's haunts, patterns, places to go to see and be seen by others and to feel a sense of life and community. And when they can't go out, they struggle."
Even those that have temporarily closed, he says, leave a mark.
"When an institution like Geronimo or The Compound has to make that decision, that's heavy," he notes. "These are the folks who have weathered multiple storms, and if they can't survive, it carries a heavy weight with it. It carries a weight for everyone."
Just how many come out of it once the pandemic subsides is hard to answer, in part because it might depend on the financial and business climate at that time, he says.
Gerberding turned 50 in September and remembers his birthday as one of introspection, of wondering where he's been and what he has done and where he is going in the future.
"It's like how our industry is feeling now," he says. "Swimming upstream and asking, 'How do we do this?' "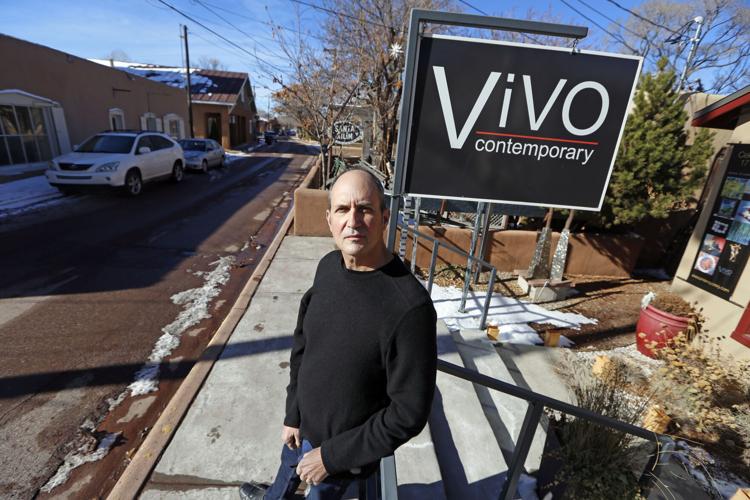 Warren Keating, Vivo Contemporary
Canyon Road has not died. It's just wilted.
But as anyone strolling the popular art-centric street knows, something's missing and other things are gone. A few galleries are clearly shuttered, with the occasional "for rent" or "for sale" sign hanging in their windows. 
"We're struggling," acknowledges artist Warren Keating, head of the Santa Fe Gallery Association and one of the creative forces behind Vivo Contemporary gallery. 
He says many members of the association have been silent about their status or their plans. In many ways, it speaks volumes.
"That says to me people are not ready to talk about the future yet," he says. 
He's not sure which galleries are closed for good or temporarily. But he acknowledges the pandemic has taken something vital away from one of the city's most vibrant artistic thoroughfares. 
"It's direction and motivation," he says. "People are really quiet and not proactive and not even around. "
One gallery on the north side of the street, once bustling with activity, is now dark, quiet and seemingly empty. Yet someone recently put up a string of colored holiday lights in one window — an act suggesting the ghosts of long-gone artists are trying to reach out and say, "We're still around."
Even the annual Christmas Eve Farolito Walk, an event that really defined what the street was about — at least years ago — was reduced to a drive-by event in the name of public health orders. 
Keating says he thinks beyond the obvious physical impacts of the pandemic. Gone, too, he says, are gallery education and entertainment, such as the Friday night After Hours program, in which "the local community could enjoy and participate in artist talks, music concerts, artist demonstrations and even flower-arranging demos."
Also lost — at least for now — are the input and criticism of arts writers, whom, he says, he also worries about. 
"It's the cycle of life, I reckon," he says.